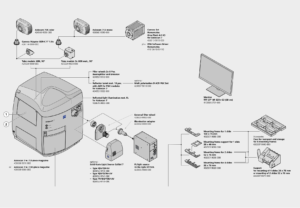 Robust scan performance
From an automated system, you expect absolute reliability for continuous operation. ZEISS Axioscan 7 repeatedly produces digitized slides at dramatically improved speed, thanks to hardware components designed for extended, uninterrupted operation. A fully motorized condenser, powerful light sources and sensitive cameras ensure 24 / 7 scan performance, whether you have many similar slides or mixed applications to process. Equal attention has been paid to both software performance and ease of use. Easily assigned scan profiles allow acquisition runs to be set up quickly. The ability to manually edit focus points provides additional flexibility. Axioscan 7 software is built to flawlessly process large amounts of raw data— in the range of several terabytes.
Automated application flexibility
ZEISS Axioscan 7 allows rapid switching among fluorescence, brightfield and polarization scanning modes, with the highest quality fast and gentle imaging fully available to you in each of these modes. Benefit from contrast flexibility and high scan speed when digitizing HE-stained tissue samples or other brightfield applications. Fast filter wheels and a spectral range up to far red excitation light expand your fluorescence imaging capabilities — in combination with the new sample-preserving contrast method Transfer of Intensity Equation (TIE), multiplex imaging reaches a new level of performance. The combination of all imaging modes let you extract maximum sample information with a minimum of effort.