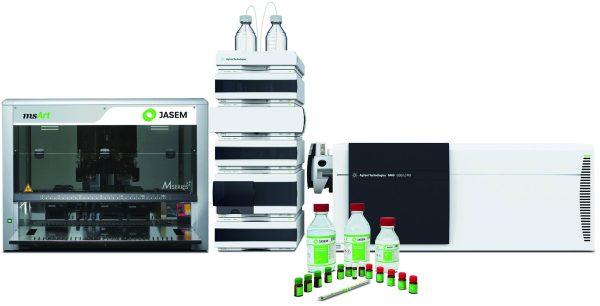 STEROID HORMONES KIT
Using a simple liquid–liquid-extraction (LLE) protocol for preparation of specimen and no derivatization is needed
Detection of multiple target analytes in a single run
Measurement of multi-class steroids without sacrificing analysis time
Ensure accurate quantitation, high sensitivity and selectivity comparing to immunoassays
Description
Matrix
Parameters
Sample Preparation
Reviews (0)
Description
Steroid hormones are defined as effective biological messengers which take part in crucial body processes even at low concentrations. Thus, dependable and simultaneous analysis of a broad panel of steroid hormones plays vital role for the investigation of the hormone profile, which could be useful in detection endocrine disorders resulting from defects in steroid biosynthesis such as congenital adrenal hyperplasia (CAH). Due to the restrictions and shortcomings of immunoassay techniques for measurement of steroid hormones in body fluids, liquid chromatography tandem mass spectrometry (LC-MS/MS) is increasingly becoming the method for multi-class steroid hormone detection.
Jasem's approach is offering simultaneously quantification of clinically prominent 16 steroid hormones by LC-MS/MS in 16 minutes.
17-α-Hydroxyprogesterone
Aldosterone
Testosterone
Estradiol
Progesterone
Cortisol
Dihydrotestosterone
Androstene-3,17-dione
Corticosterone
11-Deoxycortisol
Pregnenolone
11-Deoxycorticosterone
DHEA
DHEAS
17-α-Hydroxypregnenolone
Androsterone.
Pipet 225 μl of serum sample into a glass centrifuge tube

Add 25 μl of labeled-internal standard mixture and vortex for 5 seconds. Add 450 μl of Reagent-1 in the serum sample and additionally vortex for 15 seconds. Centrifuge at 4000 rpm for 5 minutes

Decant the clear supernatant into a new glass centrifuge tube and wash the precipitated tube with 1.5 mL Reagent-2. After liquid phases are combined and shake for 3 minutes. Then centrifuge at 4000 rpm for 5 minutes

The upper phase is evaporated under nitrogen stream and dissolved with 100 μl Reagent-3. Transfer the final solution into the HPLC vial